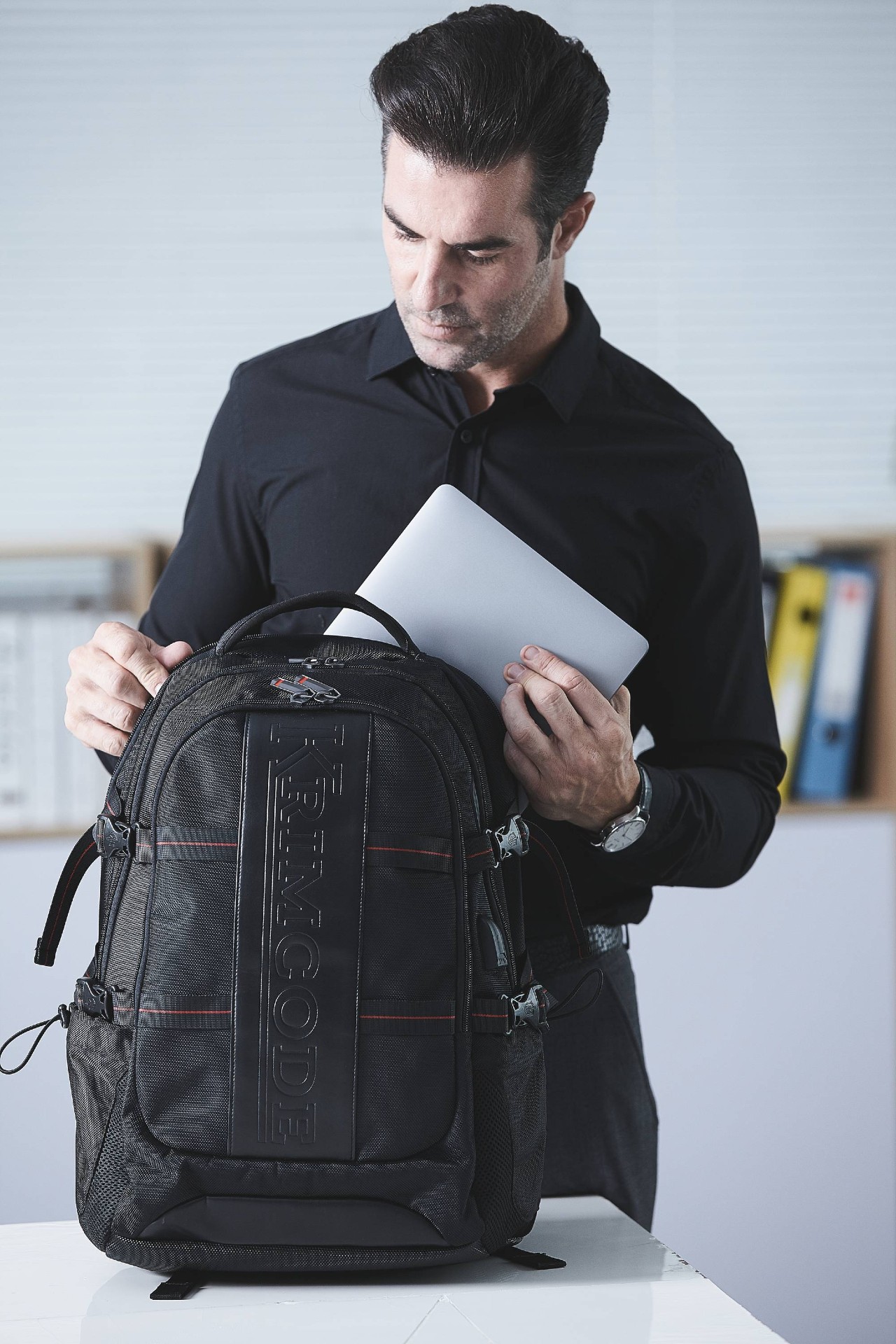 As the Corona Virus becomes an increasing concern, the business world is becoming more and more affected. A laptop backpack for work can solve your storage problems.
The stock market is tumultuous, major conferences around the globe are being canceled, and companies are restricting non-essential travel for their employees. All of this, of course, is added to more rigid, remote work policies being put into place.
What Laptop Backpack for Work We Recommend
Be bold and prepared with the Krimcode Smart Casual Backpack variation. Designed with a leather stripe embossed with a subtle logo accent. This lifestyle laptop backpack for work is a standout.
The intricately lined and patterned logo is complemented by two side straps lined with subtle red stripes. The two side straps buckle together to keep the three partitions intact when opened simultaneously.
Each partition comes with specially designed pockets to keep devices as laptops and tablets secured. Other pockets line the inner sections for stationery items like pens and a keyholder for convenience.
Found in all the smart casual backpack products, it is also crafted with a durable base, optional USB and earphone slot, anti-theft pocket within the back padding, and a highly adjustable chest strap.
Why would you need a laptop backpack for work?
A laptop backpack will protect your gadgets and files needed for your work. Keeping your laptop in a laptop backpack will prevent it from being damaged by children or any other factors at home. A Krimcode Laptop Backpack can ensure the safety of your things.
You don't always want to work from home. Sometimes you will need to go to the office. Sometimes you will want to escape your own 4 walls at home and work from a cafe, restaurant, terrace, or another nice place.
It is best if all you need is stored in a backpack, so you just slide your laptop in and grab the backpack and go. You won't forget anything, because all you need is always ready for your next mission.
What is remote work?
Remote work means the ability to figure from the laptop for remote work anywhere outside the normal office setting. Some companies maintain a team of remote or distributed workers, while others call upon a mixture of office workers and remote workers.
What are the most important benefits of a remote workforce?
For employers, those benefits are available in the shape of a bigger potential labor force.
When an employee pool isn't geographically restricted, the likelihood of finding the proper employee rises. Out of area employees also can be cheaper most times, saving employer's money.
There's evidence that remote workers are more productive, including during the pandemic. According to a recent Workplace Analytics survey, a full 53% of remote workers reported they were likely to work overtime.
That's compared to just 28% of in-office workers. According to a recent Prodoscore Research Council survey, remote workers have been putting in longer hours than they were when working on site.
Specific tools meet remote needs
As technology has gotten better, it's also developed to specifically meet the requirements of remote workers. Innovation within the space, particularly in cloud infrastructure, has led to major advancements in communication, finance, project management, and far more.
Here are a few of the popular tools that remote companies used to communicate effectively, collaborate, and ultimately be productive despite being spread across multiple locations.
Twist
Twist may be a communication app for teams who need a calmer, more organized, more productive workplace. Twist limits chaos and helps remote teams stay on topic.
Google Docs
Google Docs allows teams to collaborate on electronic documents. Providing a seamless experience in drafting, editing, and refining documentation. Whether that's company policies or blog posts.
Dropbox
Dropbox allows teams to upload and share files in a central place. Giving remote teams access to what they have wherever they're.
Zoom
Zoom offers vast video chatting software with a high-quality video and clear audio. This allows team members to satisfy and collaborate face-to-face across borders.
TransferWise
Transferwise is a simple way to send money abroad. Making it simple for companies to pay remote workers regardless of where they live.
GitHub
GitHub allows developers and engineers to host, review, and collaborate on code. As well as other projects.
Todoist
Todoist keeps track of tasks and projects in one central place. It syncs across devices so your work can always be accessed.
Advantages of Remote Work
Remote work attracts top talent
By offering a remote work setup, companies can recruit and attract talent from anywhere. This broadens the recruiting pool for open positions and helps in hiring the best of the best, regardless of where they live.
Whether it's due to personal preferences, familial obligations, or financial restraints it is not desirable for a lot of people to travel to the city just to go to work.
Remote work policies make it possible for people to accomplish the job that's right for them, regardless of where they live.
Remote work policies help companies keep employees
Remote work helps keep employees who decide to work remotely due to changing personal circumstances.
That way, companies don't need to lose performers because of a change of address, instead, they can keep employees by offering them greater flexibility and support.
Best Practices for workers who are beginning to work remotely
Proper Communication
Remote work policy should have specific guidelines around communication so there are clear expectations between you and the management.
Create a comfortable workspace
Find an area in your lebensraum where you'll comfortably accept a couple of hours. Break up some time by taking a walk around the block, getting up to form lunch, or taking a gathering. Even in the tiniest apartment, you can re-organize your space to make yourself comfortable for the workweek.
Monitor your work activity
Manage your work activity with monitoring applications. These apps can help your management team dive deeper into analytics and report on employee productivity throughout the workday.
Take Clear Breaks
It is often very easy as a telecommuter that you simply avoid breaks altogether. Don't let the guilt of working within the building you sleep in prevent you from taking five minutes to relax.
However, instead of just opening YouTube and watching some comfort clips, use your breaks to push far away from your desk. Go for a walk, enjoy fresh air, or spend time with others who may additionally be within the house.
Set your Deadlines
You might get the impression that working from home establishes more work-life balance, but be careful with that assumption.
You will get so trapped in your activity. In a relaxing environment, you simply lose complete track of time.
Instead of coworkers, who are packing up and leaving the office to remind you,  try an equivalent, set an alarm to indicate your normal workday is ending.
You don't need to stop at exactly that point, but knowing the work day is technically over can assist you to start the method of saving your work and calling it quits for the evening.
Don't hesitate to ask For What you would like
If you're employed by a corporation or organization that supports your work-from-home setup, request the equipment you would like as soon as you function from home, or within a couple of days of realizing you would like something new.
It's extremely important to set a precedent early that you simply will ask for what you would like to get your job done comfortably.
These items might include the monitor, keyboard, mouse, chair, desk, printer, software, then forth. Organizations that are familiar with remote work often have a budget for home base equipment.
Ask what it is and how often it's renewed. It also doesn't hurt to ask whether there is a loan agreement or who can pay for return shipping or disposal of outdated equipment.
Some remote organizations allow employees to usher in a consultant to make sure their workspaces are set up to be ergonomic.
Would you like a Gear for Remote Work?
The remote work movement may be a growing global phenomenon. 79 percent of data workers worldwide said they work from home, and 80-90% of the U.S. workforce would like to work remotely a minimum of part-time.
While no two remote work situations are identical, there are some common themes when it involves the tools and accessories for success.
Noise-Canceling Headphones
If you work around people, headphones are a necessity. They prevent echo and feedback on office calls and help block out distractions, so you can focus on the task at hand.
They also allow you to establish a private work "bubble," showing to anyone else within the house that you're currently busy and can't be disturbed.
Work Desk
The workstation starts with a decent desk. Sometimes that means one that may convert into a standing desk so that you are not sitting all day. Wireless Keyboard and Mouse When you're working from home regularly, it's important to create an environment that serves your needs. You would like to consider your home workspace as a true office, albeit it's only temporary.
Laptop Bag
It's practical gear for working remotely because during all that travel you are going to need somewhere to place all of your work gadgets.
A Laptop Backpack for work will make traveling easier because you will not need to worry about checking your gear, it'll fit nicely in the overhead storage compartments.
It might be small and compact, but make no mistake, this thing can fit a large amount of important stuff. A time will come when most remote workers will need to travel, so it is best to own a laptop backpack for work that will keep your gear protected.
Conclusion
In this pandemic season, a work-from-home setup can really make life easier for employees and business owners. Staying safe is one thing we should prioritize. With that, being able to work efficiently at home is really a must. A complete gear and a quality casual laptop bag can help you in organizing your work-from-home setup.