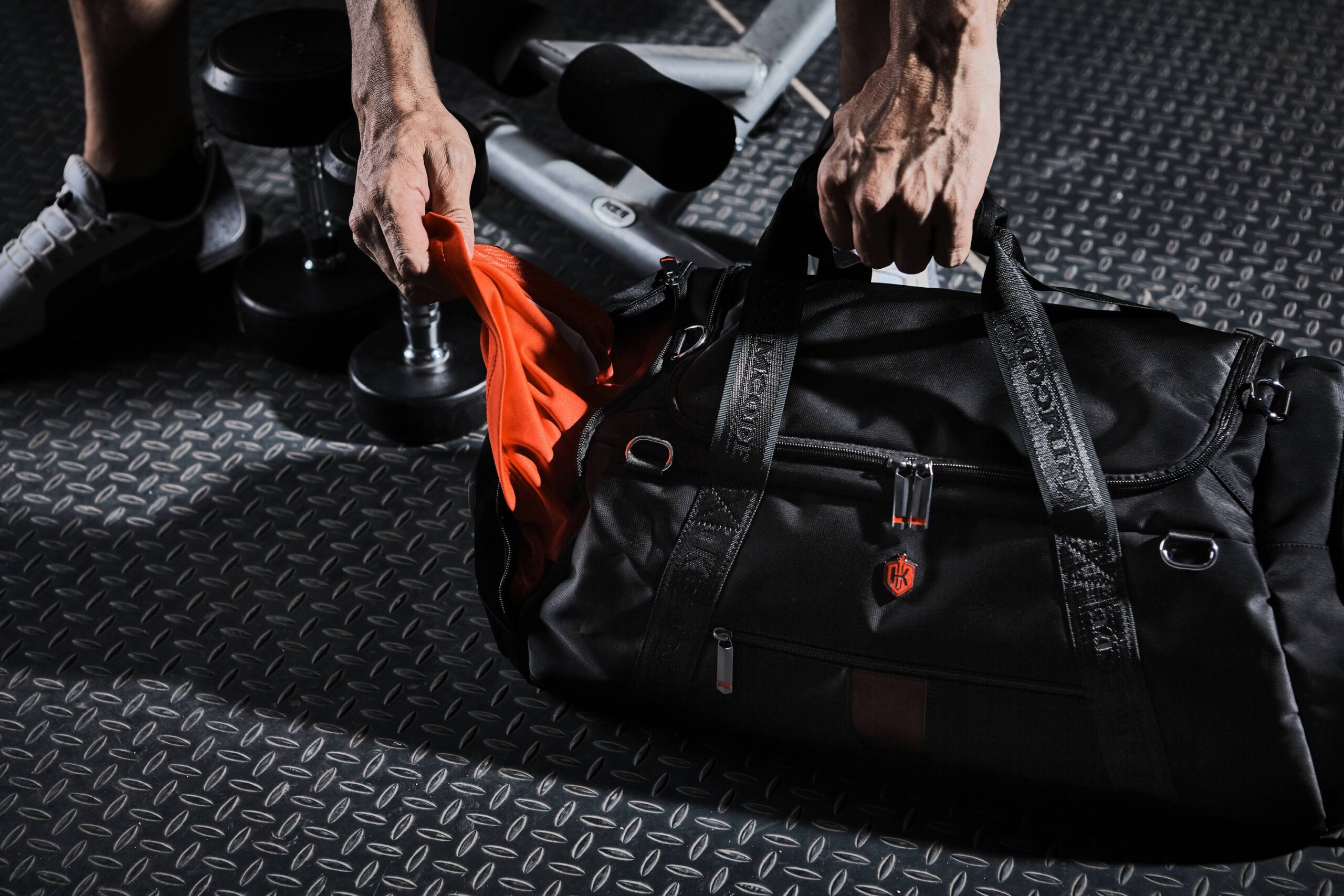 Making time to go to the gym is good for your physical and mental well-being. Investing in the best gym bags for men that can contain all of your stuff while being discreet is the easiest way to fit into your daily workout routine when your day is jam-packed with work and responsibilities.
A good gym bag should be used for more than just transporting wet clothes and other stuff around town. The best gym bags for men are designed to keep your gym equipment more organisable and efficient way. A good gym bag can store all your necessary items in one place. You're less likely to forget about protein drinks and energy snacks if you keep them in a separate pocket. Your wet things or shoes will be kept apart from your fresh clothing in the main compartment by the water and odour-proof section.
How to Carry a Gym Bag in several Different Ways
Gym bags for men by Krimcode may be worn on the shoulder, in hand, or as a backpack. You'll need a gym bag that you can use as a backpack if you ride your bike to the gym. Check out Krimcode Sports Attire's duffel bags to discover how you prefer to carry your exercise bag.
A backpack may be used as a gym bag as well.
Krimcode Street Casual backpacks were specifically designed for gym-goers. A waterproof and odour-proof compartment is included in each of these backpacks. It enables you to transport a wet towel, clothes, shoes, or sports equipment while keeping the rest of your compartments clean and fresh.
Which one, though, is genuinely worth your money? Before you walk to buy a gym bag, think about what workout bag you'll need.
The places where you'll be carrying it (weight lifting section of a gym or a swimming pool)
The amount of storage space you need
The bag's practicality (shoe compartment, anti-theft pockets, adjustable straps)
The care of the bag
What is the best material for a gym bag for men?
This is totally up to your personal preference. Ballistic nylon, like K-Tec bags, is perfect if you're always wearing moist garments since it doesn't absorb water or sweat. It can be washed, is extremely durable, and will look great even after using it for a long time.
What is the ideal size for gym bags for men?
The goods you intend to carry should decide the size of your gym bag. Consider purchasing a single exercise bag that can be placed in a locker or other convenient location. For the most part, a medium-sized bag will suffice.
Which gym bag for men design is the best?
Gym-goers select duffel bags for several reasons. They provide enough space for your possessions, including your water bottle, boots, and supplementary clothing. Krimcode has the best gym bag designs: Ballistic nylon, such as K-Tec bags, is ideal if you're always wearing damp apparel since it doesn't absorb water or sweat. It's washable, long-lasting, and will look wonderful even after a lengthy period of use.
What are the best gym bags to buy?
Krimcode makes high-quality backpacks and duffel bags to assist you in transporting your exercise gear. We'll compile a list of the top Krimcode Gym bags for men for you.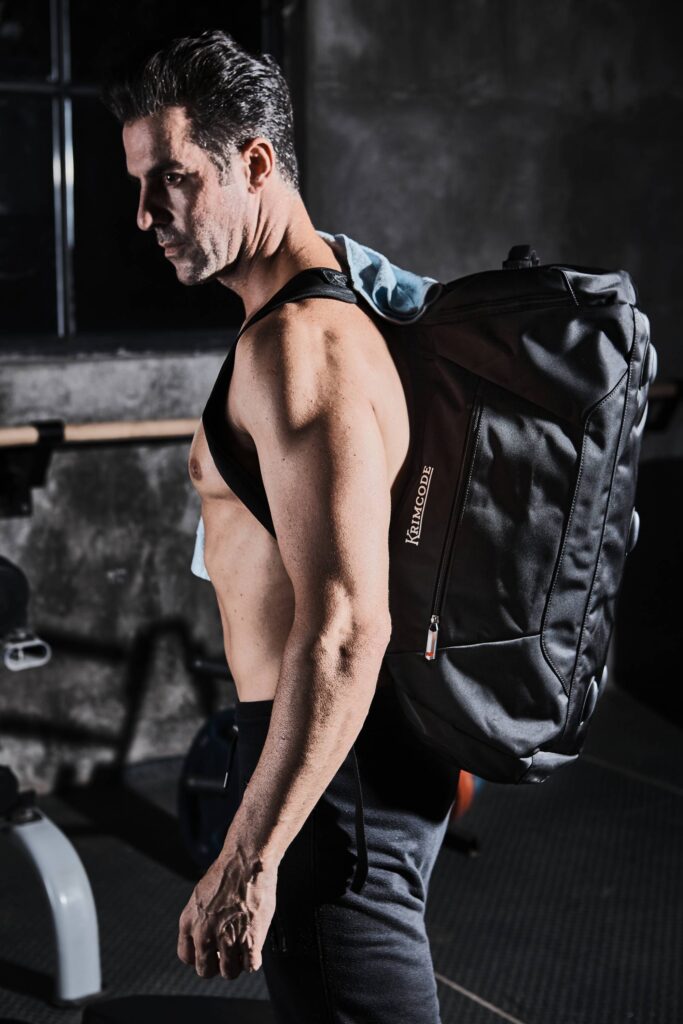 The Krimcode Sports Attire Duffel Bag 2 boosts athletic style with a striking gym statement piece. This bag may be used with everyday athleisure thanks to its traditional gym duffel bag look and basic yet clean surface.
There are three alternative methods to carry this duffel bag. It may be carried in one hand, slung over the shoulder, or worn as a backpack. The outside is made of water-repellent K-tech fabric, which keeps your belongings secure and dry inside. To protect shoes and dirty garments from mingling with clean items.

The Krimcode Sports Attire Duffel Bag 1 is a ready-to-wear duffel bag with a clean and contemporary style. This workout duffel bag has many clever pockets for sports gear and athleisure. With a strap to carry over the shoulder, this purse may be worn in a variety of ways.
A shoe pocket with ventilation is included in the bag. You may also store used clothing or equipment to keep them separate from your clean clothes and belongings. A water-repellent external coat material stands up to the weather wherever you carry it.
What should be in a man's gym bag?
You've come to the correct spot if you're having trouble picking what to keep in your gym bag. Here are several accessories and devices that can improve the quality of your exercise workouts. We've compiled a list of Gym Bag Essentials for Men in this area.
Gym towel
Smartwatch
Sneakers
Hand sanitiser
Headphones
 Moisturiser
Wide-tooth comb
Foam roller
Microfiber towel
Gym lock
Hairband or headband
Shower flip-flops
Weight lifting gloves
Deodorant
Workout clothes
A fresh set of training clothing will round out your Gym Bag Essentials. A lightweight gym shirt and hoodie and quick-drying, odour-fighting shorts should be kept on hand for men.
When looking for the best gym bags for men, there's no one-size-fits-all option. You need to seek out the right bag that matches your ongoing needs. Whether it's an outsized duffel or a little backpack-style bag, your new bag should be tailored to how you're getting to use it. Choosing a sports bag worth your money might be tough because many options, shapes, and sizes are available.