Consumer that go to school, suggest that our bags fit them. Secure your child's health with a pandemic proof backpack for school. In this article we will give you our list of the Top Krimcode Casual Backpacks and necessary pandemic supplies for you and your children.
The corona virus threatened our families health and put a hold on our regular daily lives. For the kids, the school bus, classrooms, books and unsanitized materials is the main source of a possible infection. A pandemic proof backpack for school can ensure our children's safety. With today's technology, there will surely be a bag that can carry all our children's materials while providing them safety from the virus.
Throughout my entire school experience going back to kindergarten, I have always carried a backpack with me. A backpack for school is one of the essential tools needed when going to school. It contains my books, pens and packed lunch. This pandemic season, a quality bag can really make a difference. Grocery shopping, going to the clinic or just hanging by the park, a premium quality backpack for school can carry your children's things and personal emergency safety packs.
When and if you decide to send your child back to school or even daycare, you're going to want to take all of the necessary precautions to keep them and everyone else at these facilities as safe as possible.
Backpacks have been around for people to use as storage or luggage for their daily travels . It has been used as a convenient and less strenuous way to carry a great many items. This product has been a part of school life for people since before most of us were born. Throughout the advancements of our modern day, companies have created backpacks for school that give you the most utility and use at the same time.
Backpack for School Essentials this Pandemic
1. Masks and Proper Storage
In order to avoid the transmission of the virus, Doctors recommend people wear face masks. Always remember to bring face masks to keep you and your family safe from the virus.
Pack an extra mask for your children especially when they are going to school. This will ensure that they can replace a mask when it becomes dirty. This will also keep your child extra safe from the transmission.
Keep the extra face mask in a disposable plastic, paper bag or tupperware, to prevent contamination
2. Sanitizer and Wipes
Although hand-sanitizers may be considered as personal hygiene items, they're not something that everyone carries all the time in normal circumstances.  In the case of a viral pandemic, like the Coronavirus, hand sanitizers are one of the best ways to keep your hands clean and save yourself from potential infection.
WHO (World Health Organization) recommends that people scrub and wash their hands thoroughly every time they can. When soap and water is not available, a hand sanitizer gel is an excellent substitute as long as you scrub and wash your hands for at least 20 seconds. Make sure to always pack a pocket hand sanitizer in your backpack as well as your child's school backpack.
3. Personal Supplies and Drinking Water
Before sending off your child to school, make sure you have prepared his/her personal supplies and drinking water. An extra shirt and soap can make a big difference when it comes to keeping your child safe from the virus.
Remember to include bottled water as well, since their school's drinking fountain will be off-limits.
To be able to carry this much stuff, we recommend casual and school bags that will keep your child's stuff safe. With that, we bring you a list of the best Krimcode Casual Backpacks.
Krimcode's Backpack for School

For the school and the streets. The Krimcode Street Casual Backpack for school offers comfort and durability at the same time.
With two main partitions and several outer pockets, this stylish street bag can keep anything from electronics to clothes. Standard to all street casual bags , this model comes with a washable shoe compartment complete with ventilation. This separate section can also store unwashed Other features include a convenient luggage strap, adjustable chest straps, and a hidden anti-theft pocket.
Keep your child's creativity  at peak with Krimcode's The Urban Bag. This lifestyle backpack features a contemporary design and holds the most volume in the Krimcode Street Casual Backpack series.
The model has three main compartments large enough for essentials any child would need. They come with organisational pockets that can keep anything intact. Like all other models of the street casual bag series, it has a washable shoe compartment at the base of the bag complete with ventilation.
It also features adjustable chest straps, anti-theft pockets, umbrella and bottle holders, and a luggage strap. This can carry all your children's school stuff. A sturdy and stylish backpack for school.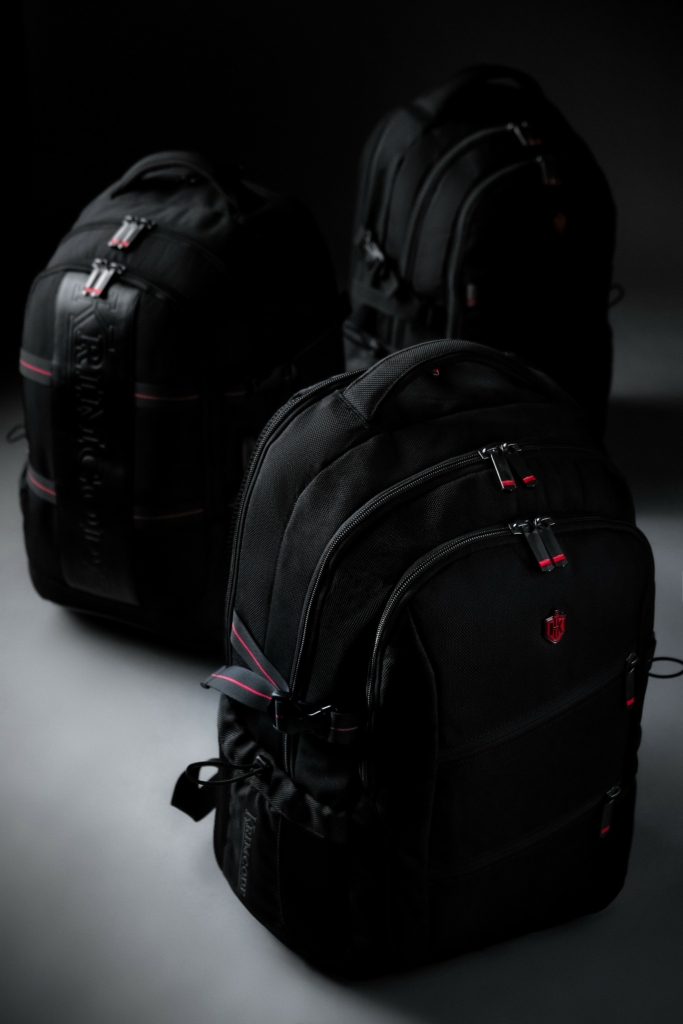 The Krimcode Smart Casual Bag is a perfect school bag, with a casual and classy design. This dapper black casual backpack is intricately tailored to be a semi-formal backpack. This backpack comes with a prominent design that features edgy red stripes.
This bag has several compartments with three sections and one outer pocket. The innermost section is made to secure electronic devices. Tablets and books will surely be secured with Krimcode's Red-Accent Strap Smart Casual Bag. The outer sections have pockets for items such as pens and stationery items to help with organisation, suitable for travel enthusiasts or university students.
Give your ordinary school bag a modern edge with the Krimcode Smart Casual bag designed with double front zippers. With a slick and professional aesthetic, this backpack will give you both satisfaction and style.
This bag has three sections with multiple pockets inside, making organising easier. The two outer sections have more pockets to safely keep several more items in order. Buckles on each side of the bag keep these openings safe and intact when several compartments are opened at the same time.
Standard to all of the smart casual bags, it also possesses a durable base, hidden pocket by the back padding, a highly adjustable chest strap, and optional USB and earphone slot. Perfect as a school backpack and formal bag.
The perfect school backpack and smart casual bag.This Krimcode Smart Casual Bag variation features an embossed leather stripe with a logo accent. A large Krimcode logo screams of class, modern aesthetic and durability.
Two side straps buckled together to keep the three partitions intact when opened simultaneously. Each partition comes with specially fabricated pockets that keeps devices such as laptops and tablets secured. The other pockets line the inner sections for stationery items such as pens and a keyholder for convenience.
Quality and Durable Backpack for School
As parents and adults, we want to have good quality products when we purchase travel or daily equipment. In bags, we look for design and durability. Krimcode offers exceptional quality bags you can use daily in the office, school and at the after-party. Classy intricate designs make Krimcode products something worth spending for.
Krimcode aims to provide customers with quality products that can keep up with a fast-paced and ever evolving environment. With the pandemic affecting every individual globally, Krimcode strives to keep on producing quality products that can stand the test of time.