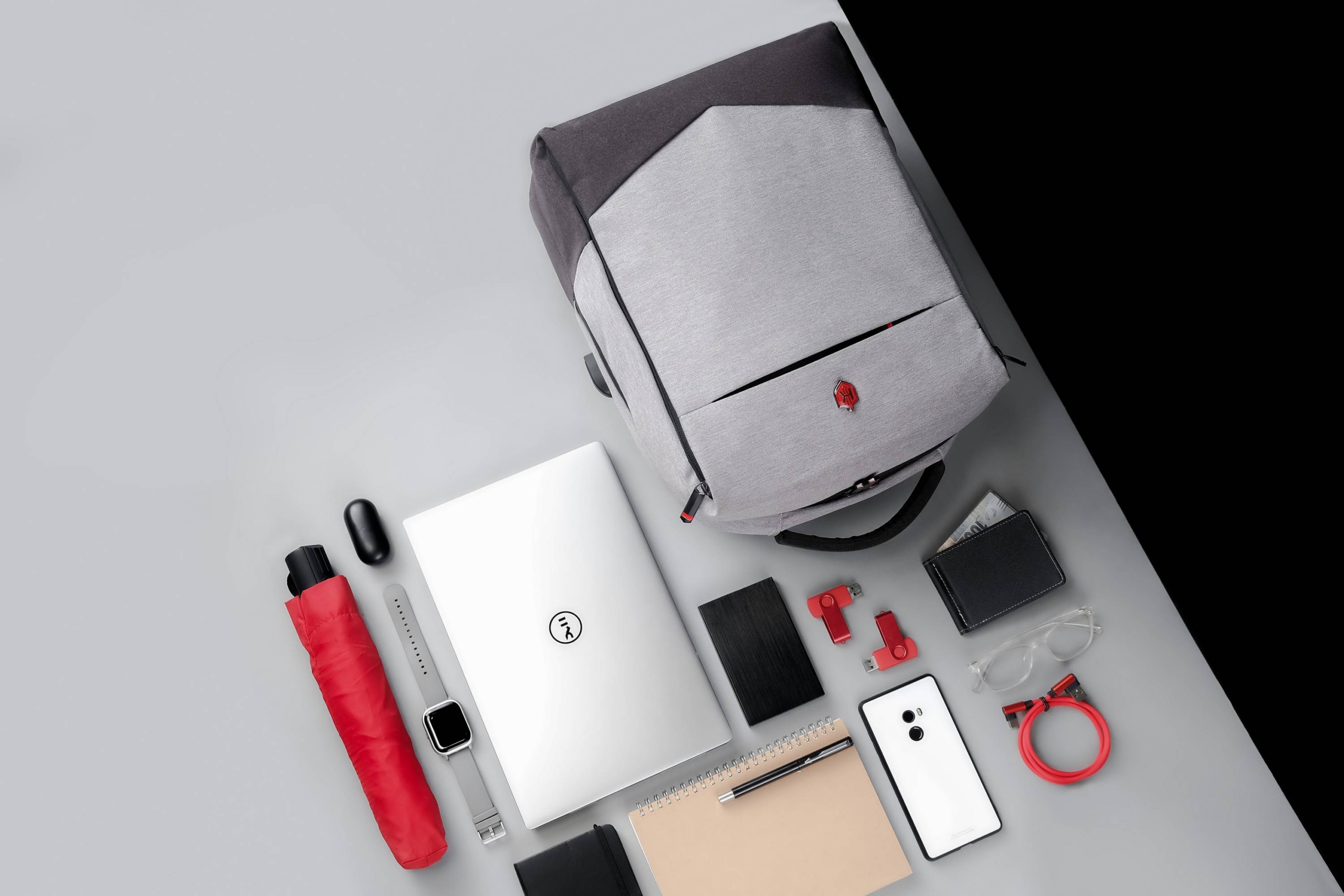 A laptop is something that has become a basic need for every working human around. It is something that is of constant use and does need to handle with care. A career-driven professional can't spend another busy day out without their laptop.
Though, in a backpack of a laptop addict laptop is not the only resident. Several other laptop backpack essentials need to reside with it. Without these Laptop Backpack essentials, a working professional can't spend an easy day.

Laptop backpack essentials:
Is it your first day at work? Or are you curious what all backpacking essentials are there in a laptop bag? Well, here we have a list of some of the most needed items in a laptop backpack:
1. Laptop:
This has to be the prime item on the list. Without this, there is no such thing as a laptop bag.
2. Laptop Charger:
It is the life support of a laptop. Ideally, one must carry a spare laptop charger along with the original one. It gets our back in the time of need and saves from hassle.
3. Notepads and Pens:
No matter if we go too far in digitalization, pen and paper is a must. Notepads and pens are something that has a place for essentials in backpacking. Notepads, when kept handy, helps to note down conversations, to pen down creative ideas, and also during the meetings to note minutes of meetings.
4. Phone charger:
The laptop is our work companion, our phones are our life companion. Most of our work relies on our phones, getting meeting calls to reminders about the deadlines. It's all on your phone. It is, therefore, needed to carry your mobile phone charger in your laptop essential backpack.
5. Documents:
All the documents required at work or for a particular meeting must be in a separate section in a laptop bag. Without the paperwork, many meetings don't begin. And thus, a laptop backpack capable of carrying them is preferred by most professionals.
6. Laptop Accessories:
Laptops have a built-in mouse and keyboard. But using an external mouse and keyboard is way more convenient to use. It could help to get away from the desk a little and have enough space to keep the ventilation. It is to ease the usage.
7. Pen drives or hard disks:
Critical information related to the company, meeting presentation, or other data is stored on pen drives or hard disks. Also, they can be of help in times of emergency for data transfer. Store them in a separate section with a zipper to avoid losing them.
8. Tablet:
It is a better alternative to the laptop. It is lightweight and compressed in size. You can store the tablet in the same area as that of the laptop. All Krimcode Business Formal Backpacks and Krimcode Smart Casual Backpacks, feature an extra Tablet pocket to keep your screen and device protected and firmly fixed.
9. Business Card:
Business cards are the identity of our business. It is an optimistic approach to carry them always. They help in networking and making connections. Always have an extra bunch of business cards. They turn out to be great referrals.
10. Carry bags:
Having some additional pouches in the laptop backpack essentials is always a good alternative. One can put Pens and pencils in these pouches.
11. Earphones or Headphones:
They are helpful during virtual meetings, conference calls, or audio calls. They reduce the noise by cutting off the surrounding sound. Thus, a clear conversation can take place.
12. Wallet:
Is it possible to conquer the world without you having your wallet in your pocket? Probably No! Keeping a wallet in a bag is to avoid it from getting stolen.
13. Snacks:
It is thoughtful to have healthy snacks in your laptop bag. It keeps you full and maintains the supply of necessary ingredients to your body.
14. Medicines:
If you wish to keep away from the doctor, it is advisable to carry medicine in your laptop bag to your work. It is the most appropriate way to remind you to take your medicines as directed.
15. Water Bottle:
One of the reasons we all are surviving: water. Make sure you are well hydrated by carrying a water bottle in your laptop backpack.
16. Books:
Gaining knowledge is a lifelong process. Books are the best source to gain information. Have it in your laptop bag to have a read during the non-busy hours.
These were some of the essentials for backpacking. Yes, it varies from person to person, yet they are the most common and most needed items in a laptop backpack.
Some points to consider while packing your laptop backpack is:
Choose the right bag:
This is by far the most critical task. There are a variety of laptop bags or office bags available. But it is very much needed to choose the right laptop bag. You could either choose from a side carry bag or a backpack.
While choosing a side bag:
Make sure the shoulder strap and the handles have padding. It would give a smooth grip and attain the shape.
For backpack:
The shoulder strap and the back of the bag must have proper padding. It would keep from hurting back. Especially when loaded with a laptop and a few more items and carried for not just a short time, a backpack is more ergonomically for your back since it divides the load equally between your shoulders.
Make a backpacking essentials list:
It must contain all the items you might need in your backpack. Do not keep unnecessary objects in the bag to overweigh it.
Pack your items in different compartments:
This would not mix up the things. It would also prevent your laptop from suffering damage. You can organize in a tidy manner.
Keep your bag clean:
Clean it every few weeks. Follow the washing guidelines to ensure that you wash it properly. Also, do not use a washing machine.
An office bag or a laptop bag is the one a professional carries everywhere. Therefore it must match your personality. It should add to the appeal. Also, it might look good and smell nice, so keep the bag clean and wash it at intervals.
Do not choose a bag that might make you look sluggish or dull. Also, do not overweigh it. Make a backpack essentials list and carry only the necessary items.