For a lot of us, our laptop is an essential piece of equipment. We spend hours on them every day, performing various tasks for work and pleasure. So it's no surprise that we spend hours picking out the one with just the right specifications: the right amount of memory, the correct amount of processing power, the best audio and video cards. How to choose a work laptop bag is rarely given that kind of attention. It's usually just some random bag that can fit our current laptop in a sleeve. But if you truly cared for your machine, this bit of neglect is inexcusable.
Why a Work Laptop Bag is Important
You might not be aware of this, but your choice of carrying tool for your laptop can spell the difference between a few years of use with minimal problems and having to replace the entire setup in a couple of months, depending on how much you travel with it.
A laptop bag for work provides a convenient place to stash your device away when not in use. This means that in the somewhat rare instance when you are involved in other activities, your laptop can be properly shut down and awaiting transportation and not sitting on your table or your kitchen counter, ready to be forgotten as you dash out the door.
A good bag also protects from the elements. Too much sun and a minimal amount of moisture could wreak havoc on your machine's delicate electrical systems.
It also provides a way to cushion against the normal jostles of daily travel. Most bags are even padded to prevent damage from a reasonable fall. Without your laptop bag, your laptop could be awkward to carry around in nothing but a sleeve, and a single bad slipup can result in the loss of a very expensive and essential piece of equipment.
However, shopping for laptop work bags doesn't have to be overly complicated. As long as you know what you're looking for, you can easily pick one that is perfectly suited to your needs.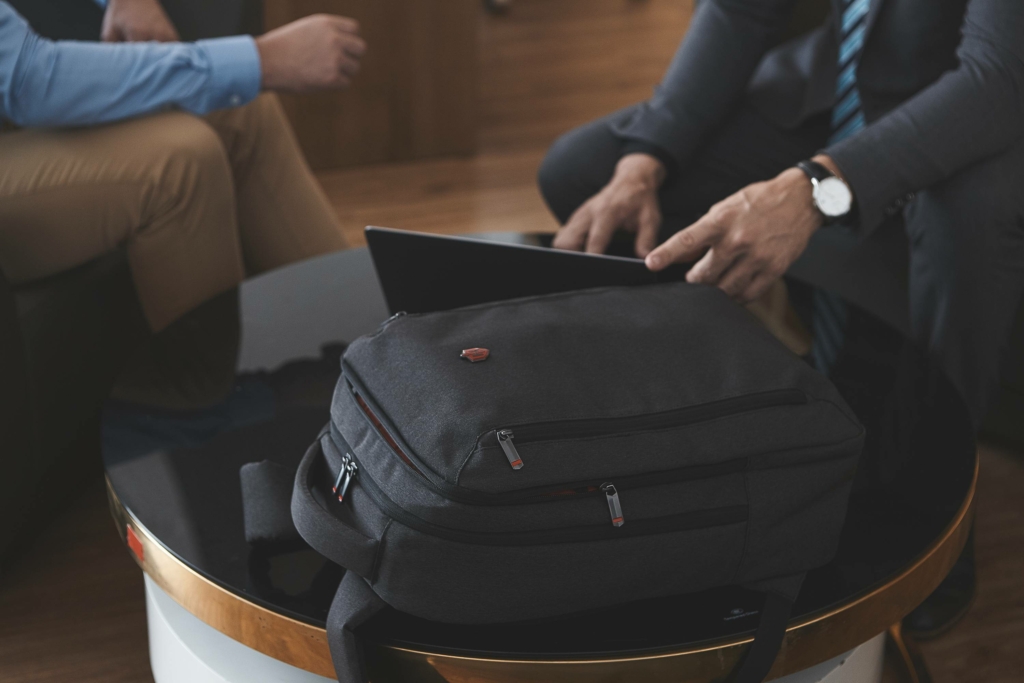 Key Criteria For Choosing A Work Laptop Bag
Laptop bags come in a wide array of types. There are sling bags, messenger bags, briefcases, and backpacks, the most recent styles of which have been refitted with securing straps and pockets to help you bring your laptop with you wherever you go.
It used to be that briefcases were the bag of choice for the dapper gentleman, but backpacks have been overtaking them as the popular choice in recent years. One of the reasons could be that backpacks give the unparalleled convenience of leaving your hands free while securing your precious cargo.
To select a style or type of bag that is right for you, pick one that fits your level of activity. Are you in and out of the office all day, taking meetings in clients' offices before racing back to yours? Or is the only time you move your laptop is from your home to your office table?
If your lifestyle is more dynamic, then you should go for a laptop work bag that moves easily with you. A backpack or a sling bag works best for this. They're usually padded for the guy on the go, and are usually a low-maintenance, no-fuss option.
If you are mostly static and you need to pull your laptop out of something expensive and made of patent leather, then maybe a satchel or briefcase would serve you better.
The Right Size
The right size of the bag will cradle your laptop and its sleeve snugly. This prevents unnecessary jostling and jouncing of your machine. As much as laptops are built to be mobile, there's only so much tumbling about a delicate piece of machinery can take.
Most bags don't explicitly say which laptops fit them- the selection is not only too varied but also constantly changing. To ensure a proper fit, make sure to measure your intended device while in its sleeve before comparing it to your prospective bag's dimensions.
The Right Material
A bag for laptops needs to make your job of carrying the machine easier, not harder. Therefore, it shouldn't weigh you down. It should preferably be made of lightweight material, with sturdy stitching.
A good bag for laptops should also have some sort of weatherproofing. It would not do to be caught in a sudden downpour and lose years of valuable data simply because your carry-all was made of nothing but cloth.
You should also check on the latches. Would you prefer magnet closures or zippers? Velcro, or metal fasteners?
The Right Fit
Just like your laptop should fit snugly in your laptop bag, so should the bag be a good fit for your frame.
Be prepared to measure the bag and your body to compare the two. Depending on the style, you should be able to find guides on how each should match up with your body type.
Fit is very significantly connected to your comfort, so you should pay close attention to it. If you are able to, go for a bag that has adjustable straps, especially if you are making the purchase online.
The Right Look
Aside from being functional, a bag for your laptop is unique in that it also serves as part of your wardrobe. So how to choose a work laptop bag for you? You should consider your own personal sense of style and how it will fit in with your entire look.
This is always a consideration, especially if you will be taking your laptop bag to work with you. Remember, the wrong bag can easily send the wrong impression to anyone taking a casual look at you across the way.

How to choose a laptop bag?
Choosing the correct laptop bag doesn't have to be a hassle, especially if you start with an exceptional selection. Browse through our prime, sleek choices at krimcode.com and get your gear on.