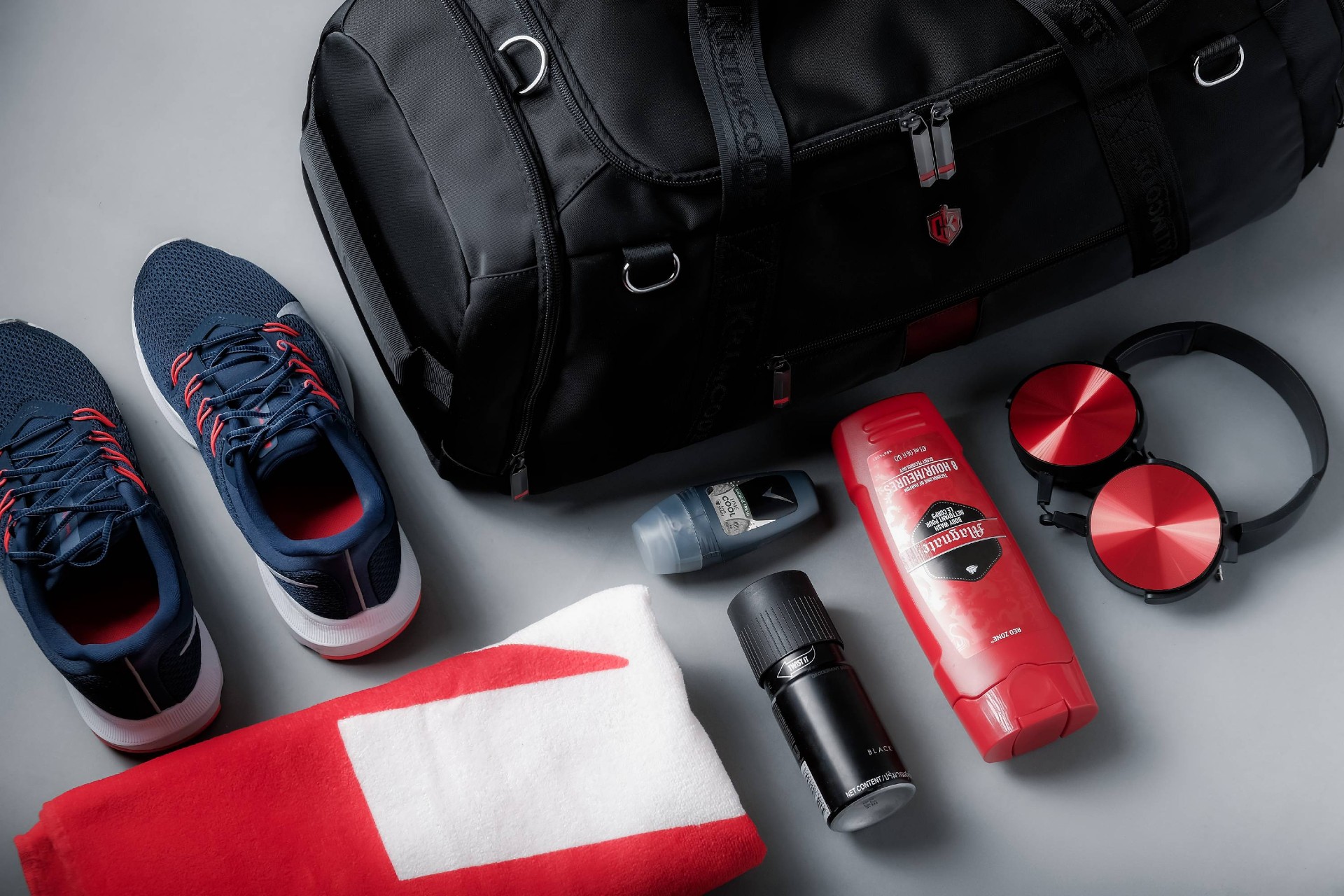 If you're having problems deciding what to bring to the gym, then you've come to the right place. There are a whole lot of accessories and gadgets that can make your gym sessions a better one. In this article we will give you our list of Gym Bag Essentials Men.
15 Gym Bag Essentials
1. Gym Towel
Always remember to bring a gym towel when going to the gym. Having your own gym towel can prevent the spread of viruses that will hinder your next gym session.
pack a gym towel which you can either sit on or wipe the equipment down before you use them. Specially designed gym towels will come with a built-in zip-pocket, so you can also use them to store your phone and any other valuables.
Remember to bring an extra piece of fresh gym towel you can use for your after-workout shower.
2. Smart Watch
Your phone or smartwatch can now serve as a music player, workout tracker,  stopwatch, and has hundreds of other functions all rolled into one.
To maximize the use of your gadgets in the gym, you can look for great apps online that you can install into your smartwatch or smartphone. Making life easier for you gives the smartwatch a place in our list of Gym Bag Essentials.
3. Sneakers
Going to the gym and suddenly realizing that you forgot your sneakers is a real disappointment. How are you supposed to get through your workouts with no shoes? Never have that same problem again by always packing your sneakers first when assembling your gym bag. Remember to bring a fresh pair of socks for your pre and post-gym session. Many gyms try to charge you a pretty penny for things like socks and towels, so be sure to bring your own.
4. Hand Sanitizer
Hand Sanitizers help you clean and sanitize your gym essentials. Bringing hand sanitizer will not just help you sanitize, but it will also keep you and your essentials fresh.
Using your hand sanitizer after using the gym equipment will keep you and the gym clean and safe. Knowing this, a hand sanitiser is one of the most important in our list of Gym Bag Essentials.
5. Headphones
A good pair of headphones can make a big difference during your gym sessions. Motivating music and quality headphones can really turn a good workout into a great workout. Whether you're a fan of tiny earbuds or love the larger, ear covering style earphones, be sure to keep a pair into your bag before heading into the gym.
6. Moisturisers
Moisturisers help moisturize and clean the skin. Having this in your gym bag ensures you and your skin's health and appearance.
7. Wide-Toothed Comb
Having long and unkempt hair is a hassle especially in your daily workouts. Having a comb ready in your gym bag helps you avoid this situation.
8. Foam Roller
If you often find yourself having troubles with muscle pain in the gym, you should buy a foam roller. This simple but effective self-massage device allows you to apply pressure to problem areas both before and after your workout.
Use a steady rolling motion with moderate pressure to sweep the roller across the targeted area. If it feels uncomfortable, that means you're doing it right.
9. Microfiber Towel
No one wants to lug a big, terrycloth bath towel to the gym. Instead, you need something that's lightweight and compact with great moisture management abilities.
Made from looped, terry-knit microfiber, a lightweight microfiber gym towel is soft, absorbent, and machine-washable. It can hold five times its weight in water, which is helpful whether you're showering or simply wiping your face mid-workout.
For added convenience, there's a hanging loop on the end and a zippered pouch to stash a key or cash. The reliability of a compact Microfiber towel makes it an important equipment in your Gym Bag Essentials.
10. Gym Lock
If we could have one gym-bag motto, it would be: be prepared. When you're traveling, it's hard to know what facilities will or won't offer, so it's good to have a few essentials on hand.
A lock to store your items while you are working out is one of your Gym Bag Essential. Fingerprint padlock uses your fingerprint to close and open the bolt, so you'll never stress about forgetting another combination or look shady as you pick your own lock.
11. Hairband or Headband
Keep your hair away from your eyes or forehead with a headband. Some headbands are not only sweat-wicking, the velvet fabric on the underside helps it to stay put while you're moving.
12. Shower Flip-Flops
It's a good idea to keep a barrier of sorts between your feet and the floor. Classic cheap flip flops do the trick: they're affordable, waterproof, and come in a wide range of colors for both men and women.
13. Weight Lifting Gloves
For those who lift weights at the gym, you'll know there's nothing more annoying than having to interrupt a set because you lose your grip. Weight lifting gloves alleviate this problem by providing a more solid grip than your bare hands can achieve.
They also absorb some of the pressure on your hands and wrists, which should help to take some of the strain when you're moving up to heavier lifts. Weight lifting gloves help in preventing calluses building in your palms. You can look online for quality weight lifting gloves to include in your gym bag essentials.
14. Deodorant
All the workout sessions require an underarm refresher after. Even if you don't have time for a shower, applying on a deodorant gives some semblance of feeling put together. Include a deodorant to your Gym Bag Essentials to keep you before or after a gym session.
15. Workout Clothes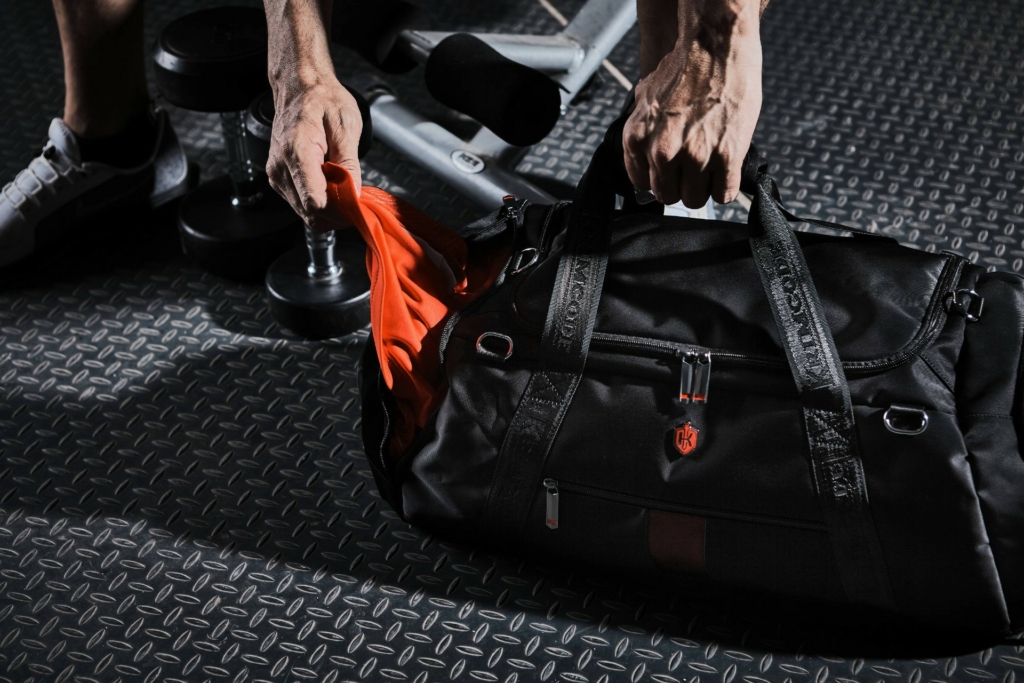 Complete your Gym Bag Essentials with a clean set of workout clothes. Good staples for ladies include a moisture-wicking sports bra and leggings, and a seamless mesh tank to keep cool. Guys should stash a lightweight gym shirt and hoodie, and quick-drying, odor-fighting shorts.
Gym Carryalls For Your Gym Bag Essentials
Krimcode offers quality made backpacks and duffle bags that can help you carry your gym bag essentials. We will give you a list of the best Krimcode Gym bags.
Krimcode Sports Attire Duffel Bag 2 is a bold gym statement piece that elevates the athletic style. With a classic gym duffel bag aesthetic and a simple yet clean exterior, this bag can complement everyday athleisure.
This duffel bag can be carried in three different ways. It can be hand-held, strapped over the shoulder, or worn like a backpack. The exterior with water-repellent K-tech fabric to keep your items inside safe and dry. A separate compartment with ventilation design to store shoes and used clothing to keep them from mixing with clean items.
Krimcode Sports Attire Duffel Bag 1 is the ready-to-classic duffel bag tailored with a clean and modern design. This gym duffel bag design fits sports gear and athleisure in different smart compartments. This bag can be carried in multiple ways with a strap provided to carry over the shoulder.
The bag features a shoe compartment complete with ventilation. Used clothes or equipment can also be placed inside to keep them separate from your clean clothes and items. A water-repellent exterior coat material withstands the elements wherever you take it.
For school, office, streets and the gym. The Krimcode Street Casual Backpack offers comfort and durability at the same time.  This gym backpack comes with a breathable shoe compartment.
With two main partitions and several outer pockets, this stylish street bag can keep anything from electronics to clothes. Standard to all street casual bags, this model comes with a washable shoe compartment complete with ventilation. This separate section can also store unwashed.
The model has three main compartments large enough for gym essentials you  would need. They come with organisational pockets that can keep anything intact. Like all other models of the street casual bag series, it has a washable shoe compartment at the base of the bag complete with ventilation.
It also features adjustable chest straps, anti-theft pockets, umbrella and bottle holders, and a luggage strap. This can carry all your gym essentials. A sturdy and stylish backpack for the gym.
Conclusion
In every workout, you will need all your gym bag essentials to help you keep safe and secure in your gym session. With that, you will be needing quality gym duffle bags or backpacks. Krimcode offers reliable products for your daily needs.